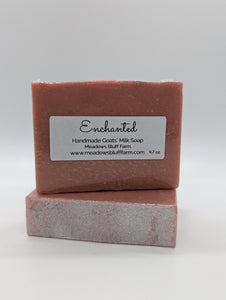 Ingredients: Farm fresh Goats' Milk from our very own dairy goat herd, Coconut oil, Avocado oil and Caster oil, Olive oil, Palm oil, Mango butter, Sodium hydroxide, Fragrance oil, Sodium Lactate, Tussah Silk, and Mica Colorants. 
Color and shape may vary.
If you are concerned about an allergic reaction, test the soap on a small skin area and stop using it if irritation occurs.