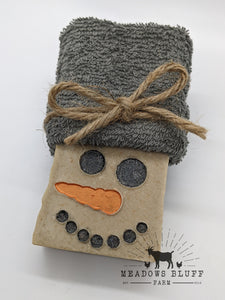 Includes 1 snowman bar of goats' milk soap with a grey washcloth hat accented with twine.
Ingredients: Coconut oil, olive oil, avocado oil, palm oil, caster oil, mango butter, goats' milk, sodium hydroxide, kaolin clay, mica and fragrance oil.
This fragrance sweet mix of caramel, maple, vanilla, cream, pecan, and a touch of musk.
Color and shape may vary.
Each bar of soap weighs about 5 oz.