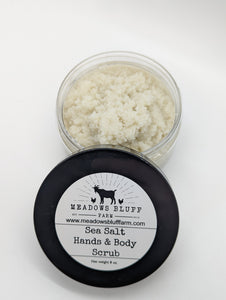 This sea salt hands and body scrub includes the following ingredients. French Gray Sea Salt, Squalane Oil, Seaweed Extract, Dehydrated Goats' Milk, Foaming bath butter, Shea butter, Avocado Oil, Vitamin E Oil, Polysorbate 80 and Sea Salt & Lily Fragrance Oil.
The fragrance is described as a fresh and complex. The first notes you smell are coconut water, pink Himalayan salt, key lime, lotus, rose, and sage leaf, as well as essential oils like lemon and grapefruit. Then bottom notes of seashell, orange blossom, magnolia, and jasmine come in.
Possible benefits:                                            The sea salt has an extremely fine texture that will gently help remove dead skin. The squalane oil and seaweed extract are nourishing to the skin. Goat milk contains fatty acids that help repair the skin barrier, probiotics to encourage the growth of normal skin flora, and vitamin A to help gently exfoliate.