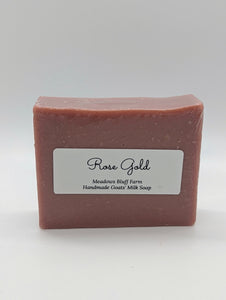 Ingredients: Coconut oil, olive oil, palm oil, apricot kernel oil, cocoa butter, goats' milk, sodium hydroxide, kaolin clay, fragrance oil. This scent is not your typical rose it's a soft mix of coconut, candy apple, raspberry, red currant, tulip, freesia, heliotrope, rose, cashmere musk, vanilla and amber. 
Color and shape can vary. 
Each bar of soap weighs about 3.5 - 5 oz.
Wooden soap dish sold separately.