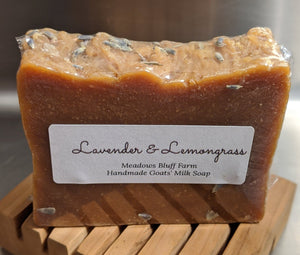 Ingredients: Coconut oil, olive oil, palm oil, apricot kernel oil, cocoa butter, goats' milk, sodium hydroxide, kaolin clay, fragrance oil.
No color added simply scented with Lavender and Lemongrass Essential Oil then sprinkled with lavender buds. 
Each bar of soap weighs about 4.75 - 5 oz.
Wooden soap dish sold separately.