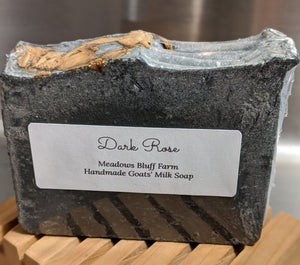 Scented with Rose Gold fragrance oil. It is colored with active charcoal and sprinkled with rose petals on top. 
This scent is not your typical rose it's a soft mix of coconut, candy apple, raspberry, red currant, tulip, freesia, heliotrope, rose, cashmere musk, vanilla and amber. 
Each bar of soap weighs about 4 - 5 oz.
Wooden soap dish sold separately. 
Ingredients: Farm fresh Goats' Milk from our very own dairy goat herd, Coconut oil, Apricot Kernel oil, Olive oil, Palm oil, Cocoa butter, Sodium hydroxide, Fragrance oil, Sodium Lactate, Tussah Silk, Active charcoal and Mica Colorants.
If you are concerned about an allergic reaction, test the soap on a small area of skin and stop using if irritation occurs.