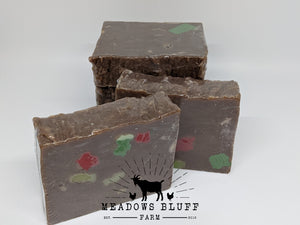 Ingredients: Coconut oil, olive oil, avocado oil, palm oil, caster oil, mango butter, goats' milk, sodium hydroxide, kaolin clay, fragrance oil and pieces of our apple soap diced and added for a little pop of color. 
This fragrance is a mix of coconut, lemon, lime, apple, cinnamon, and clove. It also has base notes of ylang ylang, sugar, and creamy vanilla.
Color and shape may vary.
Each bar of soap weighs about 5 oz.