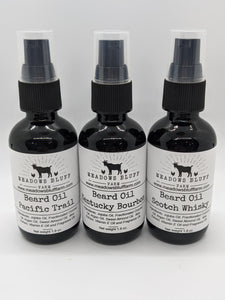 Our beard oil is made with Jojoba oil, Fractionated Coconut oil, Argan oil, Sweet Almond oil, Aloe extract, Vitamin E oil and fragrance oil. 
Each of our beard oils are bottled in a reusable glass bottle. Each bottle contains about 1.9 - 2 ounces of oil. 
How to apply Beard Oil 
After washing and detangling your beard, apply 1-2 drops of beard oil on the palm of your hand, rub plams together then message into beard and skin. Finish by combing your beard to evenly distribute the oil. 
If you are concerned about an allergic reaction, test on a small area of skin and stop using if irritation occurs.