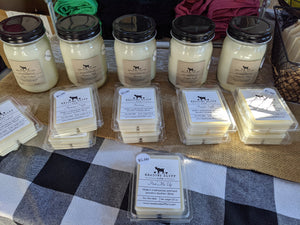 Our candles and wax melts are made in small batches and hand poured. Each candle and wax melt is made with 100% soy wax and scented with a fragrance oil or essential oil. 
CANDLE CARE: Always trim wick to 1/4 prior to each lighting. Do not leave wick trimming in the wax. When lighting your candle for the first time, allow the candle to burn until the top of the wax is completely melted. Do not burn a candle more than 3-4 hours at a time. Never leave a candle burning unattended. Discontinue use once reached the last 1/2" of wax at the bottom of your jar. Re-purpose jar or tin after you've enjoyed your candle.
 WAX MELT SAFETY: Remove 1-2 cubes (depends on the size of your melting dish) from package and place wax in your warmer. Use an electric warmer or unscented tealight warmer. Keep away from children and pets. Never leave unattended. Do not move warmer while in use. Do not add water. Do not eat.